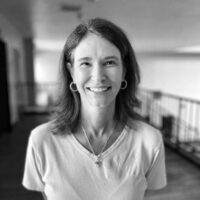 Annika Jackson
Theater
What degree(s) do you hold? From what school(s)? What was your area of concentration?
BS of Behavioral Science emphasis in Social Work from the University of Mary Hardin-Baylor
What is your previous work experience? 
I have worked for 2 different Children's Homes and then for Hill Country Christian School of Austin. I taught there 10 years in various grades from 7th-12th. I taught everything from Theatre to 8th grade English, Biblical Doctrine, Logic and Senior Thesis plus a few other subjects. One of the most favorite things I had the opportunity to do was to lead the annual student mission trip to the Dominican Republic. Last year I taught 2nd grade at Austin Classical School. 
Tell us a little about your family: 
I have been married for 27 years to my wonderful husband Brent, and we have 5 kids. I have always loved kids and was blessed to stay home for 14 years to raise my own, and I enjoyed watching them play sports or perform on stage. But my greatest joy has been watching them embrace and claim their own faith in Jesus and to walk in the Truth. As a teacher, I enjoy inspiring kids to love learning and challenging them to think. I can't imagine how one would teach any subject without infusing learning about the One who created us and our world.
What do you love about Classical education? 
There is so much that I love about classical education! I love that the end goal of a classical education is a virtuous man so that fits beautifully with Christian education. While there are classical schools that are not Christian and strive to teach virtue they will still fall short because without the grace of Christ we cannot ever be fully virtuous/righteous without Him. Another reason I love classical education is it gives students the tools to continue learning. Instead of only preparing a student with a vocation, it prepares students to think and reason and thereby gives the foundation for a student to continue learning whatever they need to in the future. As the world is constantly changing, classically educated students will be the ones better prepared to lead by their ability to think and communicate effectively. I have had the pleasure to witness this with my own children and many others students that I have taught.
Tell us about your time at ACS: 
Austin Classical School was a place of refreshment for me last year. It is place where the heart of the administration seeks the Lord for guidance and direction and fully embraces all that a classical Christian education has to offer. I have likewise enjoyed the collaborative model, which was new to me. It is a beautiful balance of discipleship and education at home along with partnership and guidance with expertise at school. I am excited to teach theatre again and to teach in the middle and upper school. I like the deep conversations that these students can engage in and like to challenge them to think deeper.
What do you hope your students will learn from you this year?
Theatre is fabulous way to engage students in story telling and to show them how God is the master story teller weaving our lives in a beautiful tapestry. As Shakespeare wrote, "All the world's a stage, and all the men and women merely players: they have their exits and their entrances; and one man in his time plays many parts;" the most important thing I can do is teach my students to realize we must play our part excellently and for an audience of One.