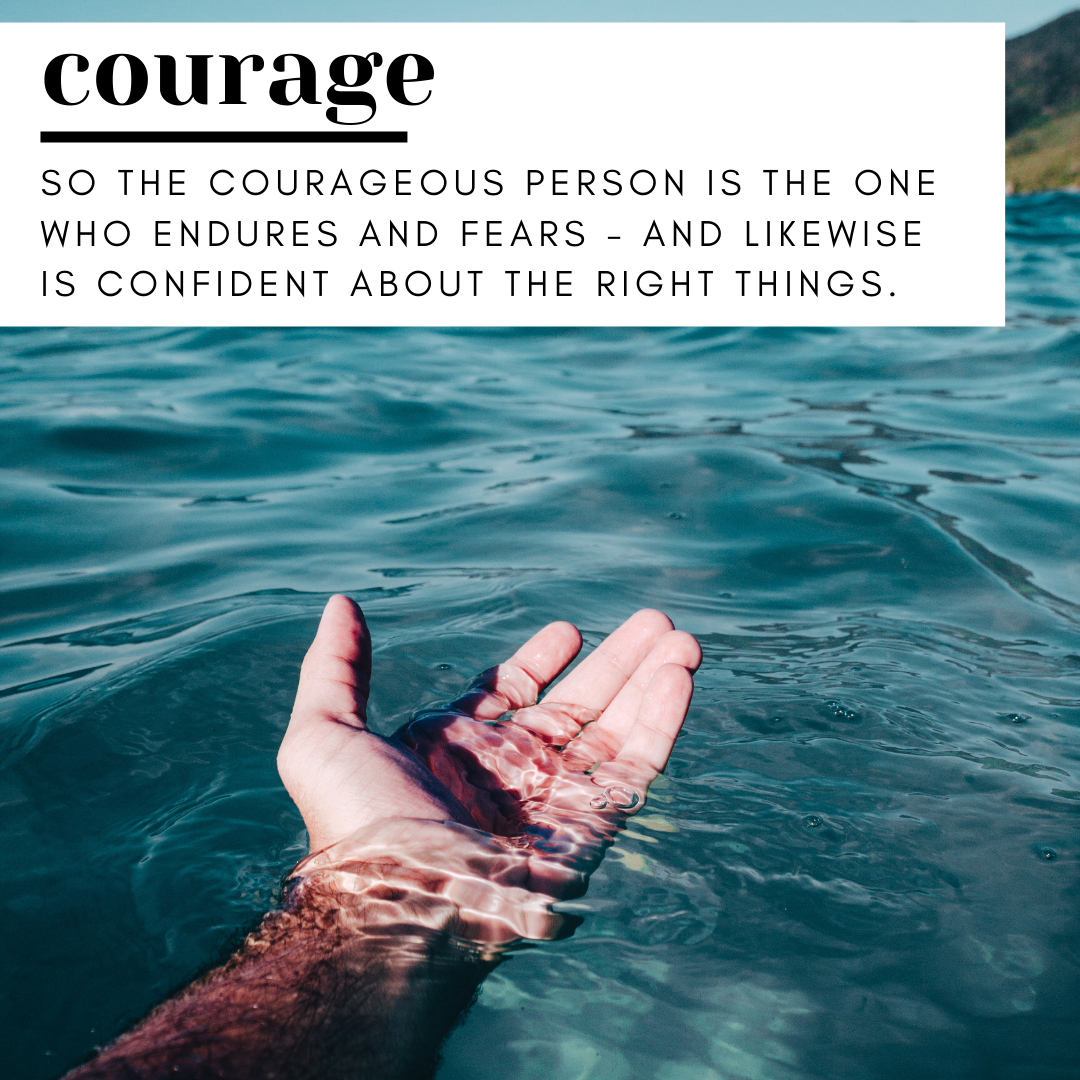 During the month of October at Austin Classical School, we've been looking at the virtue of Courage.  In chapel, we discussed how the courage of David to face Goliath was rooted in his faith in the promises of God.  Mrs. Kinslow followed up by reminding us all that the most courageous posture we can display on this side of heaven is the posture of prayer.  One of our Mustang Dads, Mr. Williams, showed us that fixing our eyes on Jesus is a prerequisite of courage, and finally, on Colonial Day, our beloved 6th-grade teacher Mr. Martin highlighted the courage of our Pilgrim ancestors who faithfully made the trip to a New World.
In today's post I would like to explore bravery and courage, two words we often consider to be synonyms, but words that have a distinction with a difference.  To do this, I want to take you back to my childhood, and to my grandparents' swimming pool. 
The thought of jumping into the deep end of a swimming pool terrified me in the first grade.  Not the strongest swimmer for my age, I feared any place in a pool where I could not touch the bottom or at least secure myself on a nearby wall.  Gradually, I became a stronger swimmer and without realizing it, my newly acquired swimming skills took me into deeper waters. Soon I could be heard among the cacophony of my other siblings, shouting "Look at me!" to my parents as I jumped boldly off the diving board into the deep end of my grandparents' swimming pool.
Besides being a weaker swimmer, there was another story behind my fear of the deep end.  One summer, before I knew how to swim, my brother and I were visiting my grandparents, the ones with the swimming pool.  Sitting at the edge of the deep end with my Aunt nearby, we noticed some water striders skipping along the liquid surface.  Fascinated that an animal could imitate a New Testament miracle by walking on water, I leaned over to scoop one up. Consequently, the extension of my little arm put my entire body out of balance.  The majority of my weight was no longer over the concrete edge of the pool. It was now over the pool itself.  
As you can imagine, my little five-year-old body toppled over and into the pool, slipping into the water quickly.  It's been a few decades since but I still remember the flurry of bubbles and recall how the surface of the water moved farther away as I sank to the bottom like a little rock.  
In what was probably 2 seconds, but felt more like 20 minutes, an arm appeared around my body.  After a tight squeeze, and a sudden force propelling me upwards, my body headed towards the light and, more importantly, towards oxygen.  My Aunt, who was my babysitter, must have seen me fall into the pool. Or perhaps my brother alerted her to my current submerged status. I never found out.  Either way, it was my aunt who dove straight into the pool with all her clothes on, scooped me up, and set me back on dry land where five-year-old boys belong.  
In both of my swimming recollections, you probably noticed a common action taking place: jumping into the deep end of a pool.  In the first account, it is me jumping into the pool. In the second account, it is my aunt jumping into the pool. Which of the jumps is courageous?  Which of the jumps is brave?  
Maybe you believe both jumps into the pool are BOTH brave and courageous.  This would not be entirely wrong based on how the words have changed over time to become nearly synonymous.  But reading Karen Swallow Prior's wonderful book "On Reading Well: Finding the Good Life through Great Books" I learned something quite fascinating about the words "courage" and "bravery."  
According to Prior, the original meaning of brave was most closely associated with "cutthroats, villains, or crooked" types.  It was a bravado that involved risk but was not necessarily attached to either a virtue or a vice. Today, the word is more commonly associated with boldness, but still, we can think of bold actions that are either arrogant or humble.  

Courage, on the other hand, is more than mere boldness.  Prior argues that courage is exclusively attached to virtue in that it is not only measured by "risk" but also "by the good it preserves."  Courage is an act that requires putting a greater good before a lesser good, and it involves a known risk of potential loss to the one acting courageously.  
So back to the pool jumping.  My gradual jumps into the pool required a growing bravado.  Sure, there was some risk involved in getting over my fear of the deep end, but it was not virtuous courage because the object of my action was mostly for attention.  Remember, the words preceding my jump? "Look at me!"
Contrast that to My aunt's jump into the pool. This was Virtuous courage because she took a risk to save my life. As she jumped in the water, she wasn't shouting "Look at me!" but she was saying with her actions, "Uh oh, look at him! He's at the bottom of the pool! I need to fix that, even if I need to jump in the pool with my clothes on!"
C. S. Lewis said that courage was every virtue at its pressure point.  In this small story, we see how courage is tied to justice (ie. making things right) in putting a boy on land.  It is also intricately tied up with love. My aunt's love for me outweighed a love for herself or her dry clothes.  

Aristotle says of the courageous person: "So the courageous person is the one who endures and fears – and likewise is confident about the right things, for the right reason, in the right way, at the right time; for the courageous person acts in accordance with the merits of the case, and as reason requires."

Both C. S. Lewis and Aristotle echo truths that find their source in the ultimate example of courage, the source that allows any of us to act courageously. 

 Jesus.

Just as I fell into a pool as a little boy, the Bible tells us that ALL of mankind fell.  We fell into sin. And while I did not drown that day, the Bible makes it clear that because of our fall into sin, all of mankind died that day. 

But, God saw us. He LOVED us. He wanted to make things right.  And so He decided to act Courageously. He took on a loss to Himself in order to save something that He loved.  And this loss was HIS only son who He loved from before the creation of the world. He jumped into the pool of our sin, scooped us up, and pulled us toward the light, and more importantly oxygen, new life.  

In Romans we read:
For while we were still weak, at the right time Christ died for the ungodly.  For one will scarcely die for a righteous person—though perhaps for a good person one would dare even to die—  but God shows his love for us in that while we were still sinners, Christ died for us.  Since, therefore, we have now been justified by his blood, much more shall we be saved by him from the wrath of God. 10 For if while we were enemies we were reconciled to God by the death of his Son, much more, now that we are reconciled, shall we be saved by his life. 11 More than that, we also rejoice in God through our Lord Jesus Christ, through whom we have now received reconciliation.

Romans 5:6-11