Pre-K at Austin Classical School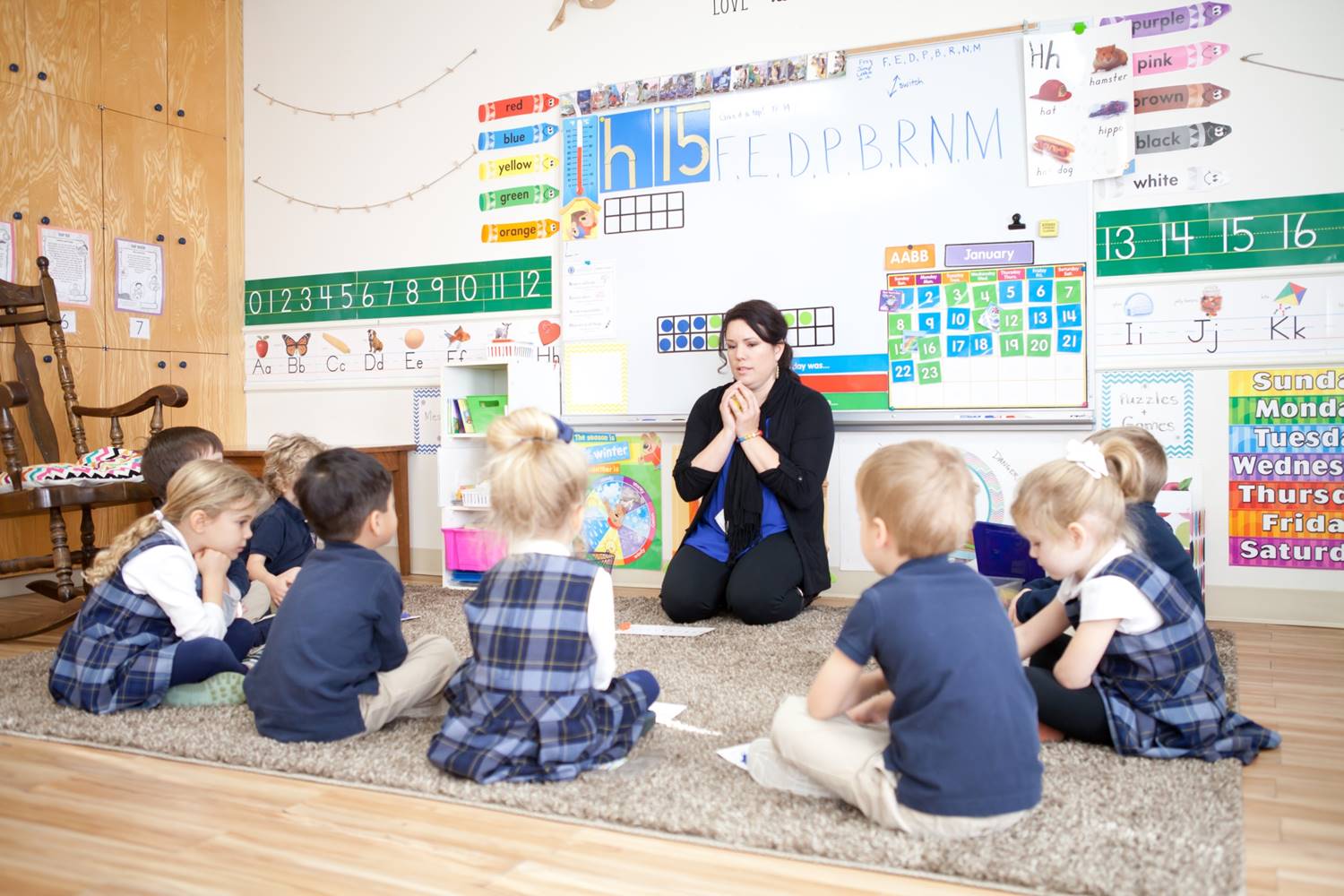 Our Pre-K program at Austin Classical School is a wonderful place for our students to have a ton of fun while getting ready for Kindergarten! We asked some of our Pre-K teachers for the inside scoop about what happens in their classrooms:
The Details:
In our collaborative model, our students in Grammar school (from Pre-K through 4th grade) are on campus on Mondays and Wednesdays.
Unlike other Pre-K programs, we offer a pretty full day of learning and fun, starting around 8:30 AM and ending around 3:45 PM. This means that our mini-Mustangs in Pre-K are on the same schedule as their siblings in older grades, simplifying drop-off and pick-up for our parents.
How does Classical education approach the Pre-K year?
We introduce personal and bible history timelines focusing on left to right directionality, emphasize memory work by memorizing scripture, handwriting songs, and rhymes, and we center our instruction around questions and answers between student and teacher.
Our aim is to prepare children for Kindergarten: We cover letter recall, A-Z, introduce lowercase letters, pair phonic sounds with letters, and prepare children to read in Kindergarten by covering the 5 Big Skills of PreReading, from our All About Reading curriculum, including a love for literature, rhyming skills, and listening for letter sounds.  
Additionally, we start every school day with time in Chapel, learning about who God is, how He made us, and how we can serve and love Him in all that we do.
What about math?
In math, we cover number recall 1-20, introduce data organization, basic addition and subtraction concepts using concrete math manipulatives, calendar skills, and counting by tens, estimation, shapes, and pattern extension.  
These hands-on elements in math feed well into our Singapore style Math in Focus, which we start in Kindergarten at ACS.  Our program is not an individual based learning experience.  We emphasize corporate learning as we provide a loving authority over students, and a structured routine schedule.  We are learning to be one in a community of believers in Pre-K, praying for each other, offering turns to each other, and esteeming each other above ourselves.
What do the students really get excited about in class?
The children LOVE science!  It's hands-on, very quick, and tons of fun!  They also enjoy PE, which we include each day, along with quite a bit of recess and game time outside.
Is there any downtime in the day?
Absolutely! We know that while these students require a lot of activity and playtime, they also need to rest their bodies. So each afternoon, we have rest time. Students are not required to nap, but we do ask that they truly rest.
Whether that means quietly listening to an audiobook or read-aloud, or closing their eyes while Classical music plays, rest is an important part of our time together and helps everyone finish the day well.
What changes do you typically see in the students over the course of a school year?
The children begin the year needing help unpacking their backpacks, cleaning up after themselves, going to the bathroom by themselves, and having a little trouble sharing toys.  
Throughout the year, in addition to learning their letters, numbers, adding, and sounding out simple words, they grow incredibly in independence, putting away toys and unpacking their snacks and water bottles well.  
They also learn to ask for turns from friends, give turns to friends, accept responsibility for their actions, encourage friends and to be considerate and kind!  It's a lovely thing to watch!
What do you love about being a Pre-K teacher?
Their growth in heart and character is so sweet. We love the supportive families at ACS, listening to the students' precious prayers, and the extremely funny things they say!! There are no filters in PreK!!
Interested in learning more? Send us a message or apply now!