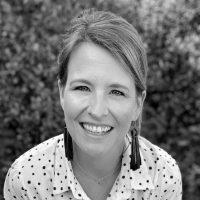 Katie Foshea
Head of Grammar
What led you to Austin Classical School?
I was looking for a better way to educate and disciple my own children and after talking to several friends and praying a great deal, we knew this amazing place was where God had led us.
Describe your teaching philosophy: 
Children learn best when they believe they are loved and known. I strive to love my students in the Lord first and foremost, knowing excellent pedagogies can only go so far.
What are some hobbies you enjoy outside of the classroom?
Paddle-boarding, running, hiking, and drinking Summer Moon coffee (that's a legit hobby, right?)
Who had the greatest influence on you? 
Ronnie and Sharon Smith had the greatest influence on me. They served the Young Life ministry faithfully and discipled me in college. I saw in them an authentic faith in the Lord that drew me in and changed me profoundly. They continue to model lives that display Romans 12:1-2.