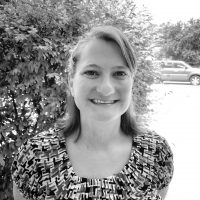 Allie Ousley (Kindergarten)
What degree(s) do you hold? From what school(s)? What was your area of concentration?
I have a bachelor of science degree in early childhood education from Texas State University.
What is your previous work experience? 
I taught English to teens and adults while living in Trujillo, Peru for a year. I also taught preschool and realized how fun and curious 4-5 year olds are. I have taught kindergarten at ACS for two years and have loved it! I have continued to learn about how to lead students toward true, good, and beautiful things. My understanding of how to do so has grown and expanded with time.
What led you to Austin Classical School?
I was first drawn to ACS because of the university model of schooling because I wanted to be involved in schooling my children but didn't know much about homeschooling.
What is your teaching philosophy?
Children are naturally curious and absorb information and influences easily. Teachers should use these to their advantage to model and encourage learning.
Tell us a little bit about where you are from and how you were raised: 
My family moved around a lot as a military family, but I spent middle and high school in Ft. Walton Beach, Florida. I have one younger sister who is one of my best friends. I attended public school for all of my education, and came to know the Lord in 6th grade. I was an avid church attender, even eventually dropping out of marching band in eleventh grade so that I could do more church activities. I did everything from playing hand bells and singing in the choir to attending mission trips and leading Bible studies.
In college, my faith grew even deeper and I have enjoyed time with my Savior in the ups and downs of life ever since. Jesus is the most important person in my life. Right now my husband and I spend time on the weekends leading the middle and high school students from our church. We are so blessed to be called and equipped for this work that we would have never chosen for ourselves. We also have three children and two cats.
Tell us a little about your family:
I will have been married to my husband, Daniel, for 14 years in July. We met in Peru where we were both teachers at a Christian Language Institute. In 2011 we adopted our daughter from Houston. She is now 10 years old and has two younger brothers. I love being their mom and have enjoyed homeschooling them alongside their ACS teachers for the past several years.
Why are you interested in teaching in at Austin Classical School? What do you love about students in the grade you're teaching?
I absolutely love kindergarteners because they are naturally curious and can enjoy silly things. Watching them grow through the year is absolutely amazing. They come in uncertain of how to do school or if they even want to and leave being able to read and write and recite and even be a friend. I love to allow my students opportunities to discover God's beauty in textures, colors, and created things. Kindergarteners are great at marveling!
What do you hope your students will learn from you this year?
This year I hope my students will know that I love Jesus and that He is my reason for living. I hope to share with them His love and sacrifice. I also hope that they will learn that it is okay to make mistakes and that doing hard things is not bad, but actually good!