Congratulations are in order!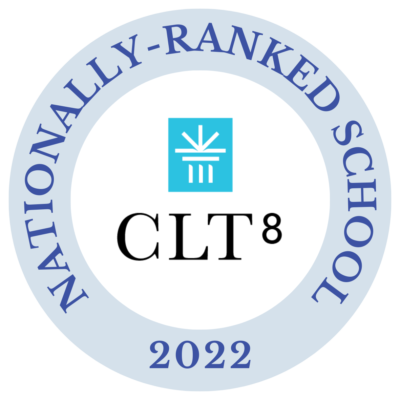 We got some great news this week! For the past few years, our Upper Logic and Rhetoric students have taken the CLT8 and CLT10 each spring. This is one of the ways we ensure our students are progressing in their studies. It's the preferred exam for most classical Christian schools, and a primary reason we partner with the Classic Learning Test is because they "emphasize intellectual aptitude and achievement and are grounded in the liberal arts tradition."
This week, the CLT announced their 2022 School Rankings. Of the hundreds of schools across North America that administer the CLT8, CLT10, and CLT, the organization recognizes the twenty highest-achieving schools for each exam. For the CLT8, Austin Classical School is #13 on the list! We're so proud of our students and want to recognize the 8th and 9th graders who took the CLT8 last spring. Well done!
For context, the CLT8 is a diagnostic or benchmark assessment offered by the Classic Learning Test and designed for 7th and 8th graders. Evaluating reading, grammar, and mathematical skills, the CLT8 provides a comprehensive measure of achievement and aptitude and engages students with thoughtful content drawn from classic literature and historical texts. Since its inception in 2016, Classic Learning Test has offered assessments steeped in more intellectually rich and rigorous content than other standardized tests. 
Again, we recognize that this achievement reflects the years-long efforts of our students, teachers, and co-teachers. Congratulations to each of you on this wonderful accomplishment!
Curious to know more about Austin Classical School? We would love to host you on campus soon, so visit our Admissions page to book a time to come by!