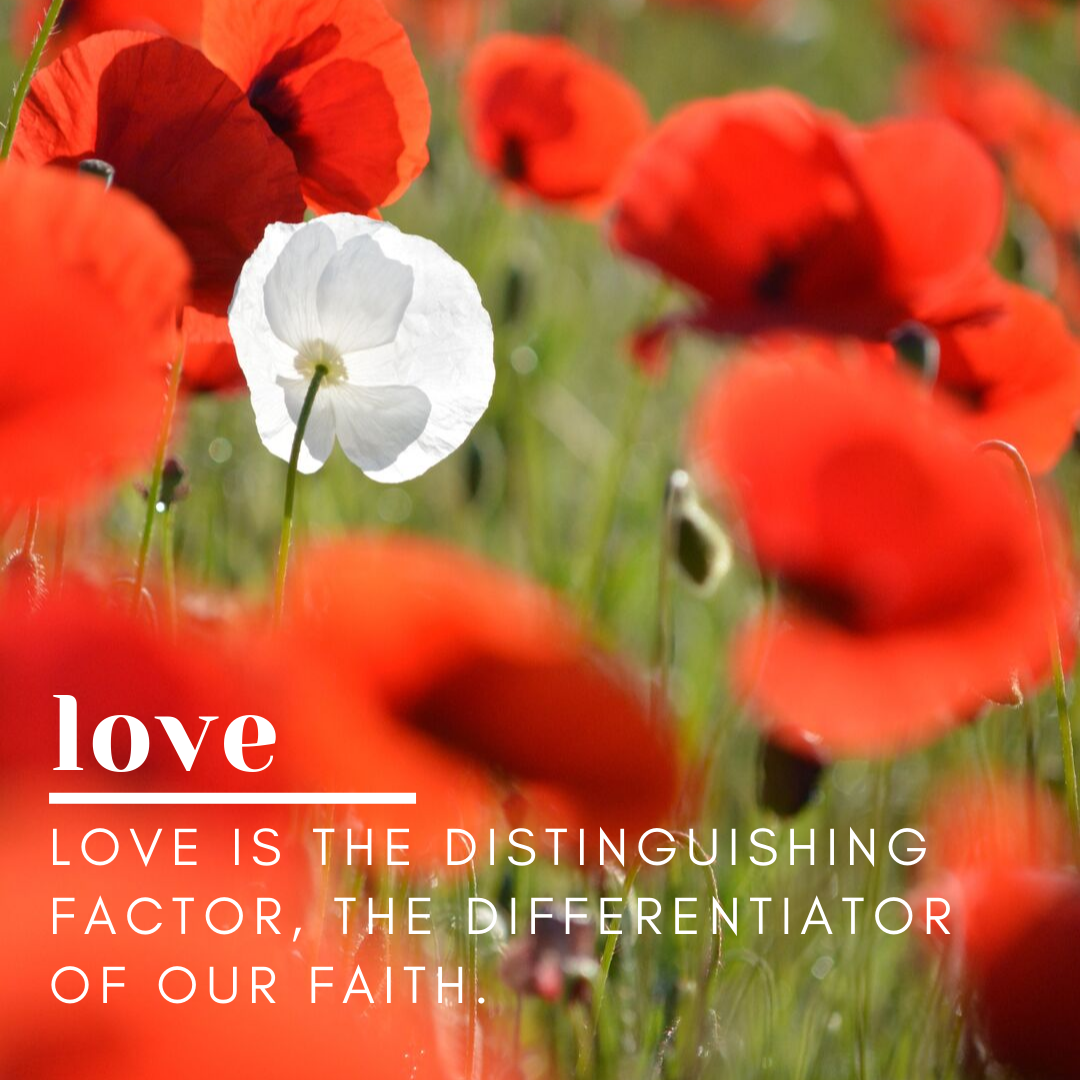 As a school, we're studying virtues this year, and we chose to kick things off with a fairly hefty one: love. Confession, this virtue isn't something that comes naturally to me. And now that I think about it, that's the point.: Because love is not natural, we have to put forth an effort, repeatedly, season after season, to cultivate this as a habit of the heart. 
This past season, it has been apparent to me just how critical this virtue is. This idea of love – something that doesn't come naturally to most of us, is actually the thing that we are called to do and be and embody. Even when it's hard. Especially when we don't want to. 
Mr. Martin, our 6th-grade homeroom instructor, talked earlier this month about John chapter 13, where we find Jesus washing the disciples' feet. Today, I find myself drawn to the same chapter but for a different reason. Once He had concluded His incredible act of humility, Christ gave His followers a new charge, a new perspective on their mission: 
"A new command I give you: Love one another. As I have loved you, so you must love one another. By this everyone will know that you are my disciples, if you love one another."


John 13:34-35
Love is the distinguishing factor, the differentiator of our faith. It is the way that everyone will know that we are His disciples. But it is an impossible feat without the help of the Spirit. Left to ourselves, loving others is sometimes (dare I say "most times"?) the last thing we want to be caught doing. Maybe it's inconvenient. Maybe it's too time-consuming. Maybe it's just simply too hard. 
And that's where virtue kicks in. That's where, as Mr. Sikkema pointed out a few weeks ago, "a life of virtue point[s] all people towards a life devoted to the pursuit of human excellence; a calling to strengthen one's inner nature to conform to an external moral standard." Like it or not, we have a calling to strengthen our hearts to the moral standard spelled out in the Word. 
Earlier this week, within the span of 24 hours, I saw this image (below) twice, and heard two strikingly similar messages regarding the siren's call: once in church and once in our chapel service. 
In both instances, it struck me that love is a choice – and we must decide in advance what we will do. Odysseus didn't just saily blindly into the Sirens' trap, he went in with a plan. Granted, that plan included copious amounts of beeswax, but I think you see where I'm going. When things get inconvenient. When things get too time-consuming. When things get simply too hard. We must have already chosen to love. Choosing to love is our plan to sail past the Siren call of sin: laziness, selfishness, pride. Choosing to love, before we're in those hard conversations, is what will help us survive those hard conversations. 
I realize I might be twisting this classic story a bit much, but to me, the thing that stuck with me was that so much of choosing to love your child, your spouse, your boss, your neighbor, your enemy, comes down not to the moment itself when you choose to love, but the thousands of moments before you have to choose. 
In our collaborative model, we often tell families that yes, they do get more time together, and that can indeed be (and often is!) a beautiful thing. But we also tell them that more time together also means that there are more opportunities to sin against (and in front of) each other as well. When I'm teaching my 1st and 4th graders on our homeschooling days, if I haven't decided in advance to love, then I know we're going to have a bumpy ride. I simply can't trust myself to choose love in the midst of spelling struggles or math woes. It has to be something that I decide repeatedly, hour after hour, relying on the Spirit to increase my capacity as that muscle gets stretched again and again. 
I say these things not as a how-to, but as a confession. I fail daily to choose love in advance, taking the chance that I'll choose love in the hard moments. I think there's a (rumored) Einstein quote about doing the same thing repeatedly and expecting different results…and I think it means that I'm insane. But we've all got to start somewhere. So why not start with love? Let's start by choosing, in advance, that we will love.
Kim Rama
Admissions & Marketing Director